Swimming Lessons
Growing Tree Early Education is exciting to announce that in Term 4 our Kindergarten children will start weekly swimming lessons at Lawnton Aquatic Centre.
The children will travel between the centre and pool in our new air-conditioned bus. The Kindy children will partake in a 30-minute weekly class with a fully qualified swim teacher.
Lawnton Aquatic Centre has partnered with Swimming Australia to bring a new and effective swimming and water safety program, focused on experiential and activity-based learning.
GOswim swimming lessons empower students to think, discuss and decide whilst having fun in and around water.
The curriculum covers seven areas of learning that are combined and presented as activities to enhance student development. Key learning areas include:
Entries and exits
Floating and sculling
Movement, propulsion and stroke development
Personal survival
Underwater skills
Rescue and emergency
Water safety knowledge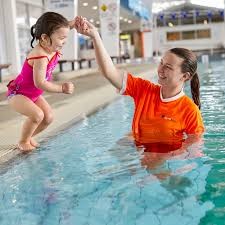 There is no additional cost to parents for this service. For more information on Lawnton Aquatic centre please click here: www.lawntonac.com.au